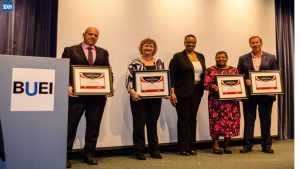 Crime Stoppers' Second Annual Weekend Film Experience was a resounding success with one sold out show and four others nearing capacity!
This past weekend, (February 28 to March 3) the Bermuda Underwater Exploration Institute hosted the Weekend Film Experience of carefully curated high calibre movies. Programmed by Bermudian film professional Andrew Stoneham, his eclectic selection of films consisted of "the Guilty", "Big Fish & Begonia", "Disobedience", "C'est la vie" and sold out show, "The Favourite".
Vice-chairman Jahan Cedenio said, "We had such a high demand for tickets to The Favourite on February 28th that we decided to hold an extra showing at BUEI on Thursday, March 14th. This movie recently received a 2019 Academy Award, awarded to Olivia Colman for Best Actress." So, if you missed your opportunity to see the film the New York Times calls "a wildly entertaining, bracingly cynical comedy of royal manners" it's not too late! Tickets for the second showing of the Favourite are selling fast and can be purchased from https://www.ptix.bm/. Cost is $15.00 for adults and $12.00 for students.
Crime Stoppers overall goal is to keep our community safe and, in doing so we encourage the community, business sector, and law enforcement to continue supporting Crime Stoppers Bermuda, as it helps to ensure the safety of us all. Chairman Carlnika Roser addressed the audience on opening night by thanking patrons and sponsors for their continued support of this charity. She stated, "98% of funds raised from events like our Film Experience are redirected back into the promotion of Crime Stoppers." She then presented four Crime Stoppers Community Awards to:
• Dunkley & Pioneer Dairies — Who display the anonymous reporting number and website on their milk cartons and delivery trucks.
• The Royal Gazette newspaper — Who display the reporting platform information on the bottom of their front page, each day the paper is published.
• The Marketplace Supermarkets — Who supply thousands of customers with paper bags which display the anonymous reporting telephone number and website.
• The Argus Group — Who were our title sponsor of the Argus Crime Stoppers 5K Run and Walk over the past TEN years, in an event which become our main awareness campaign and fundraiser.
• Press release from Crime Stoppers