CBLA Crime Stoppers Regional Director and Chairman (Alejo Campos & Alex MacDonald) presented to the ACCP Police Commissioners and various agencies such as the US and British Embassy teams, FBI, Caricom and Interpol Caribbean teams and numerous commercial security organizations, who attended the ACCP 34th Annual Conference in the Cayman Island hosted by the Royal Cayman Police Service.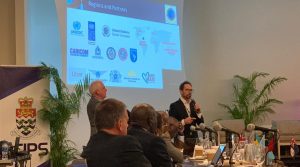 The twenty minutes briefing to the Commissioners covered the Regional statistics for 2018 and the success and challenges in relation to our 17 programmes. Discussion was held on ways the various Commissioners can assist and expand the needs of the Crime Stoppers Boards in the CBLA programs, and the increase in organized crime in communities through illicit trade and human trafficking. CBLA highlighted the various social media marketing used in various programs and future social media and awareness campaigns to be undertaken.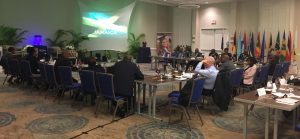 Over the few days in Cayman, CBLA team had the opportunity to undertake discussions with the Cayman CS Chairman, and the various Police Commissioners which have a CS program. Additionaly, networking with other NGOs and regional partners.
In the closing remarks it was highlighted that the 2020 Conference will be held in the Bahamas.