On June 14, 2019, The Argentina Chronicler will host a regional meeting on security and illicit trade with the presence of the honorable Nation Security Minister, Patricia Bullrich. Colon Free Zone User Association and Crime Stoppers Caribbean, Bermuda and Latin America (Panama office) are enthusiastic to participate for at this event for the first time. This meeting will bring together different speakers and international panelists to discuss issues related to security, illicit trade, money laundering, and other related topics.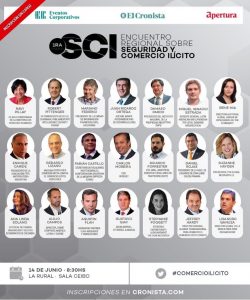 A panel of subject matter experts has been assembled to discuss issues in public-private cooperation in public security. The panel will be moderated by Alejo Campos, Regional Director of Crime Stoppers, accompanied by Navi Pillay, ONU Former High Commissioned for Human Rights. Enrique Thomas, Federal Security Management Secretary for the Ministry of Security of Argentina. A representative of the National Board for Legal Trade. Fabián Castillo, Institutional Relations Secretary of the Argentine Confederation of Medium Enterprise (CAME) and Gerardo Lizano, Costa Rica Mixed Commission Representative against Illicit Trade.
The panel will participate in discussion relating to "International Trade as a threat to National Security". In which Crime Stoppers will present results of their successes in Central America and the Caribbean. These results will reflect positive outcomes in state security where Crime Stoppers operates as a prelude to the opening of the Crime Stoppers in Argentina and Paraguay.
Daniel Rojas, President of the Colon Free Zone Users Association together with Jeffrey Hardy, General Director of the Transnational Alliance to combat illicit trade (TRACIT ), and Lisando Ganuza, Head of the Office of the World Trade Organization for the Southern Cone (WFZO), will open a dialogue in respect to counteracting vulnerabilities in free trade zones.
In order to discuss the work that has been developing in the Colon Free Zone and matter of security, Alejo Campos and Daniel Rojas will be conducting a working meeting at the Nacional Bank with the free trade zones and the authorities of Argentina. There will be a particular focus on the reasons why new company's are attracted to free trade zone facilitation and logistics center framework.
More information in: /comercio.Ilicito?utm_source=HTML