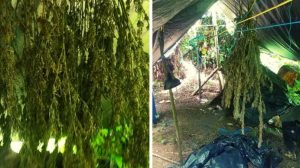 Police said marijuana valued at around $100,000, which was found in Grande Riviere, has been seized and destroyed.
In a statement, the Trinidad and Tobago Police Service (TTPS) said the marijuana was found at a camp in Grand Riviere yesterday.
The TTPS said the plants were discovered during an eradication exercise conducted in the Matelot district between 8am and 12 midday.
The TTPS said officers received information and went to an area off of the Paria Main Road, Grande Riviere. The marijuana was found in a camp in a clearing and was subsequently destroyed.
The exercise was coordinated by Snr Supt Aguilal, supervised by Sgt Scipio and Cpl Frederick. It included Cpl Carthy, PCs Campbell, George and Marine of the Special Investigations Unit (SIU), the Air Support Unit led by Cpls Forbes and Alfred and PC Didial and officers from the Matelot Police Station including PCs Dandrade, Hosein, Pierre and Ramroop along with other officers.
Anyone with information that can aid in the arrest of persons, in this case, is asked to contact Eastern Division Police at 668-2505, or 999, 555, CRIME STOPPERS at 800-TIPS, or report via the TTPS Mobile App.